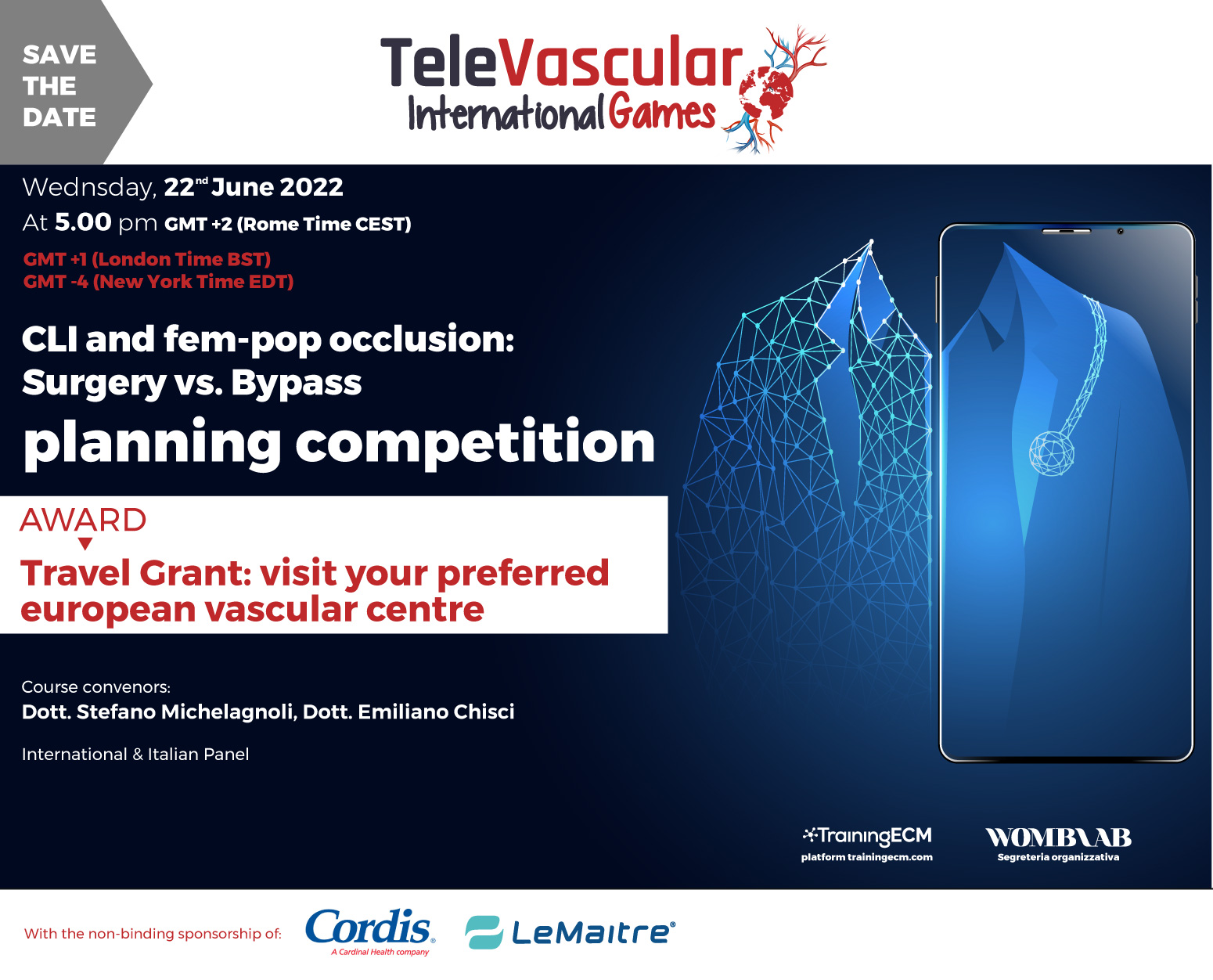 Register
ABOUT THIS PROJECT
Televascular international Games -Fem-pop occlusion and CLI: endovascular therapy vs bypass. Planning competition
June, 22nd 2022
5 P.M. – 7 P.M GMT +2 (Rome Time CEST)
GMT +1 (London Time BST)
GMT -4 (New York Time EDT)
This webinair is addressed to young doctors wishing to get involved in an innovative project: a planning competition.
GAME GOAL: through a competition, there will be the chance to discuss and share our knowledge on this specific matter through instant pools.
All subscribers interested in joining the aforementioned competition will receive (via link) pre-operative CAT scans and a graphic template useful for the project. The contributors will plan the entire endovascular treatment project of the case starting from sizing and reporting the possible steps and devices to be used. The selection, carried out by a jury, will point out the three best projects according to the following parameters:
• originality (points 0-10)
• material selection (points 0-10)
• steps evaluation (points 0-10)
• planning skills (points 0-10)
• overall evaluation of the pathology (points 0-10)
The winner will be selected via televote.
The best three competitors will have the opportunity to compete and present their case during the webinair on the 22nd of June, with a chance of winning a TRAVEL GRANT to one of the best aortic centre in Europe.
Here follows the link to the EVENT LANDING PAGE – register for free
https://www.televascularinternational.com/
Course Convenors:
Dr. Stefano Michelagnoli, Dr. Emiliano Chisci
Download programma