EVENTO POSTICIPATO – DATA DA DEFINIRSI | VERONA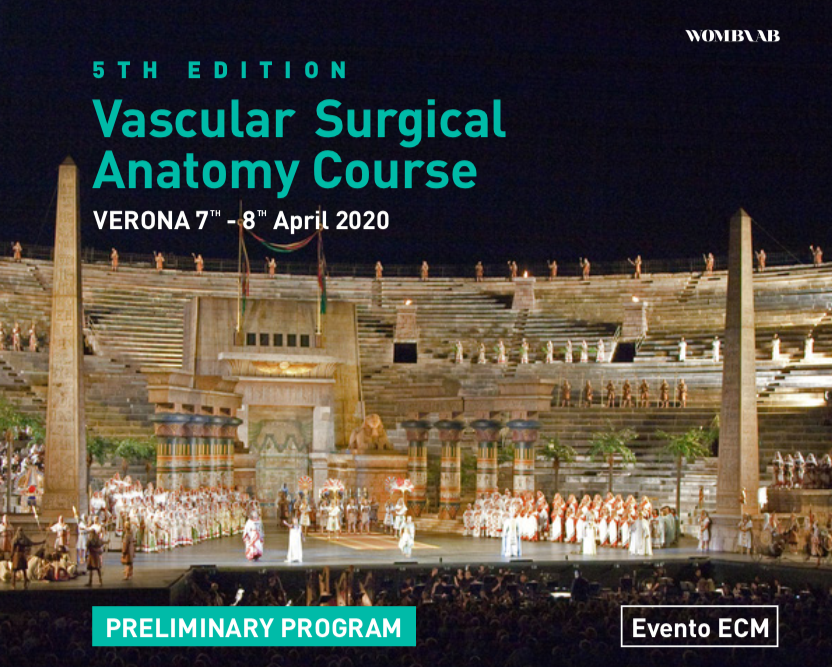 ABOUT THIS PROJECT
EVENTO POSTICIPATO – DATA DA DEFINIRSI
Educational needs and expected outcome
In the Endovascular Era is important that surgeons do not lose their familiarity with the surgical skill indispensable for dealing with complications that may arise during endovascular treatment, or for confronting hybrid procedures. The participants would benefit from the experience of expert tuition in aortic surgery in a very interactive and stimulating educational context.
Objectives
This specific vascular course aims at improving knowledge of anatomical access to the thoracic and abdominal aorta and its branches including anatomic laparotomic and laparoscopic dissections and practice on fresh cadavers, with the contribution of experts in this field of Vascular Surgery. The course is open to Vascular and General Surgeons from around the world who have successfully completed their surgical training or are at an advanced level of training.
The official language is English.
Maximum number of participants: 30
COURSE CONVENORS
Antonio Maria Jannello Negrar, Italy
Luca Garriboli Negrar, Italy
Honorary President
Marcello Ceccaroni President ISSA Negrar, Italy
TUTORS
Michele Antonello Padova, Italy
Emanuele Gatta Ancona, Italy
Emiliano Chisci Firenze, Italy
Gabriele Maritati Brindisi, Italy
Gian Battista Parlani Perugia, Italy

ECM: 14,6
Open to:
HEALTH TECHNICIAN OF MEDICAL RADIOLOGY.
SURGEON DOCTOR:
CARDIOLOGY; HEART; GENERAL SURGERY; THORACIC SURGERY; VASCULAR SURGERY; ANESTHESIA AND RESUSCITATION;
COURSE PARTECIPATION FEE
1 – EUR 2500
Includes course registration, travel and hotel accomodation.
2 – EUR 2000
Includes only course registration
PAYMENT METHOD
– Pay the registration fee online:

EUR Total amount: EUR 2500
pay online your registration fee here!
EUR Total amount: EUR 2000
pay online your registration fee here!

International bank transfer to:
WOMBLAB S.R.L. IBAN: IT75D0304801000000000089743
Object: "Verona VASA 2020 Vascular Course Enrollment".
HOW TO REGISTER
Complete the Application form (available at www.womblab.com) and send it before March 20th, 2020 together with the invoice receipt, to the address barbara@womblab.com or to the fax number +39 011 5612849
For Info Phone Number +39 011 4336307
Registration withdrawals before February 3th, 2020 will be refunded at 50% of the given amount. No money refund will be provided after that deadline
COURSE LOCATION
ICLO Via Evangelista Torricelli, 15A 37135 Verona VR Italy
ORGANIZATION OFFICES
barbara@womblab.com
M +39 3464761243 | P: +39 011 4336307 | F: +39 011 5612849
DOWNLOAD PROGRAM
DOWNLOAD REGISTRATION FORM
4TH EDITION – VASCULAR SURGICAL ANATOMY COURSE