WEBINAR
EBM E GOVERNO CLINICO
IN UNA PROSPETTIVA VALUE-BASED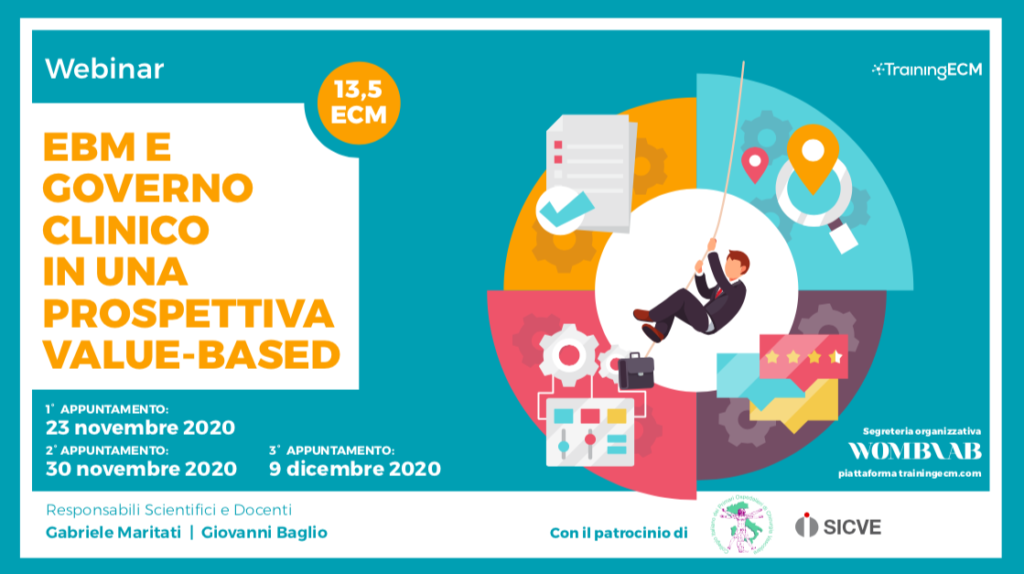 ABOUT THIS PROJECT
La presente proposta formativa vuole contribuire alla diffusione delle conoscenze di base relative ai principi dell'EBM e del GC, ai metodi e agli strumenti da essi utilizzati, al significato e prospettiva della VBM.
1° APPUNTAMENTO: 23 Novembre 2020
Dalle 16:00 alle 19:00
Significato e ruolo dell'EBM. Le 5 tappe del metodo EBM
2° APPUNTAMENTO: 30 Novembre 2020
Dalle 16:00 alle 19:00
Principi ispiratori, significato e ruolo del GC
3° APPUNTAMENTO: 9 Dicembre 2020
Dalle 16:00 alle 19:00
La misurazione della qualità: Indicatori di struttura, processo, esito.
RESPONSABILI SCIENTIFICI
Dr. Gabriele MARITATI
Direttore UOC Chirurgia Vascolare Ospedale 'Perrino' ASL Brindisi Fellow of the European Board of Vascular Surgery – FEBVS
Prof. Giovanni BAGLIO
Medico epidemiologo, specialista in Igiene e Medicina Preventiva Specialista in Statistica Sanitaria MSc in Epidemiology (LSHTM – University of London)
Docente di Statistica per la ricerca sperimentale e tecnica a contratto presso "Sapienza" Università di Roma
DISCIPLINE DI RIFERIMENTO
MEDICO CHIRURGO: anestesia e rianimazione; cardiochirurgia; chirurgia generale; chirurgia vascolare; medicina generale (medici di famiglia).
WEBINAR FAD ECM
ID Evento: 307378
ID Provider: 4596
Crediti ECM: 13,5
QUOTA DI ISCRIZIONE GRATUITA
MODALITA' DI ISCRIZIONE
Registrazione in piattaforma FAD Trainingecm al seguente link: trainingecm.com
SEGRETERIA ORGANIZZATIVA E ECM
WOMBLAB srl & Trainingecm.com
Corso G. Matteotti, 38
10121 Torino
T +39 011 4336307
M +39 346 4761243
F +39 011 5612849
barbara@womblab.com
Download programma
ISCRIVITI SUBITO AL WEBINAR FAD