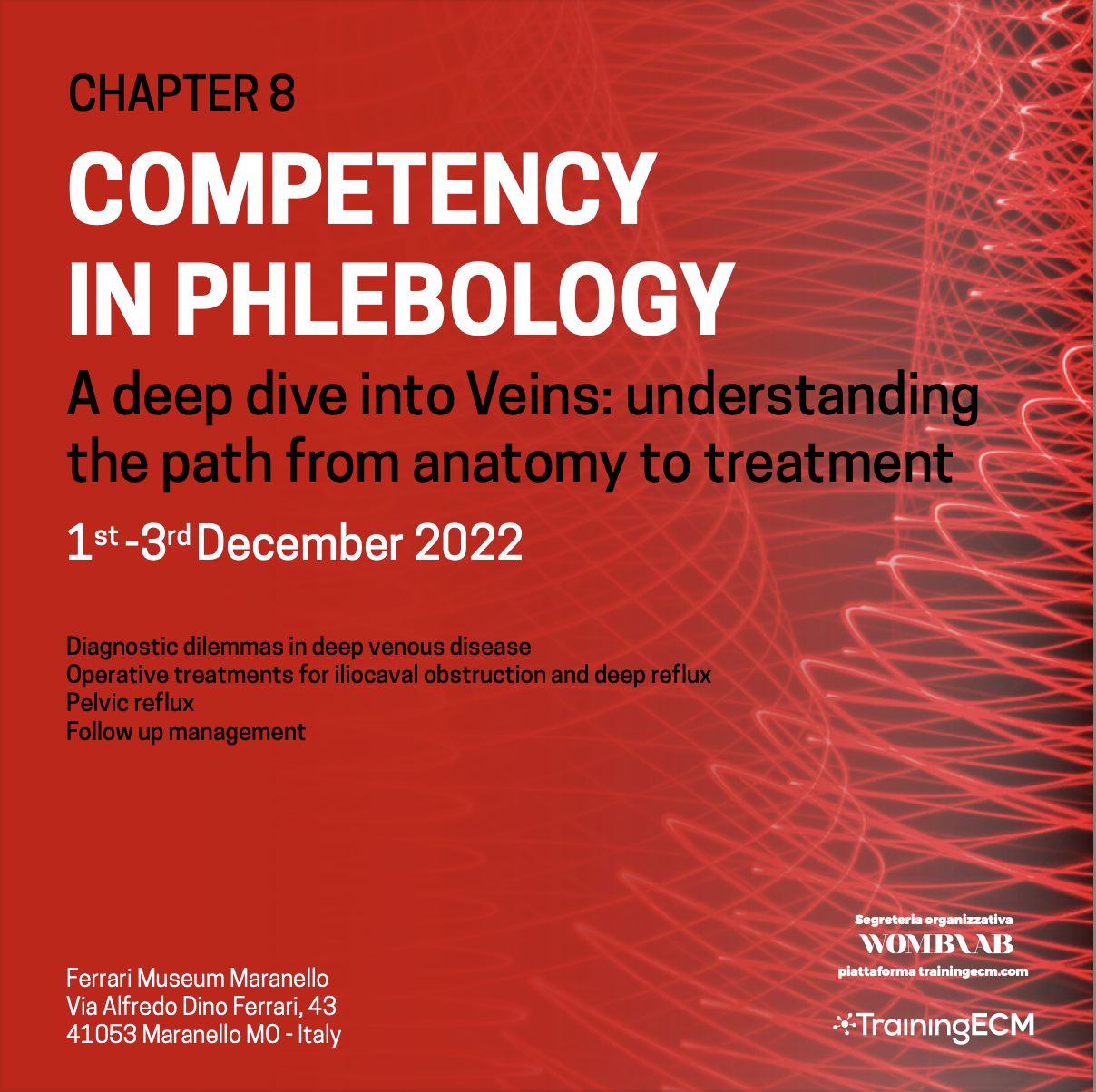 ABOUT THIS PROJECT
CHAPTER 8 – COMPETENCY IN PHLEBOLOGY
A deep dive into Veins: understanding the path from anatomy to treatment
1 st – 3 th december 2022
PRESIDENTS
Maleti Oscar
Nicolaides Andrew
COURSE DIRECTOR
Lugli Marzia
INFORMATION
Venue address
Ferrari Museum Maranello
Via Alfredo Dino Ferrari, 43
41053 Maranello MO
CME EVENT
EVENT ID: 341766
PROVIDER ID: 4596
CREDITS: 15
Accredited roles
Cardiosurgery, general surgery, vascular surgery, anesthesia and intensive care, radiology, vascular medicine, cardiology, nurses, perfusionists.
REGISTRATION
Registration fee
€ 980 AVS Members
€ 1220 Non Members
To register, fill the REGISTRATION FORM (which you can find below). At the same time it is necessary to pay the registration fee.
Payment: with credit card bank transfer to the current account payable to:
Womblab srl – Bank INTESA SAN PAOLO
IBAN: IT34I0306901000100000079562
Reason for payment: INDICATE THE NAME OF THE COURSE AND THE PARTICIPANT. If the payment is made by a third party, indicate the name and surname of the person purchasing the course.
To request the access code and take advantage of the free registration, contact the secretariat: marilena@womblab.com
Cancellation policy
No refund after these dates and in case of non-partecipation/no-shows.
ORGANIZATIONAL SECRETARIAT AND CME ITALIAN PROVIDER
marilena@womblab.com
P: +39 011 4336307
Download scientific programm