VERONA 9 | 10 | 11 | 12 JULY 2019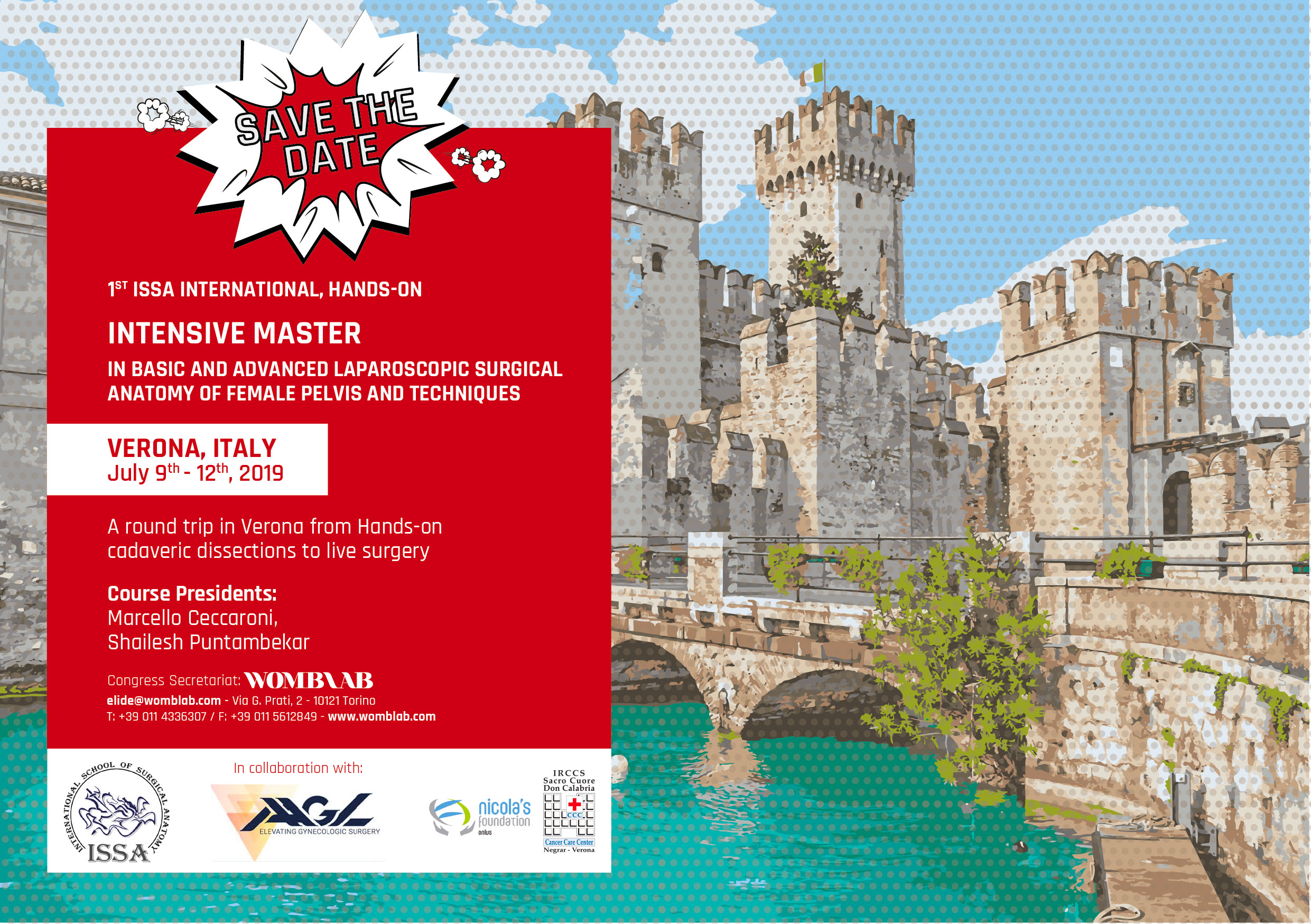 DOWNLOAD PROGRAM
REGISTRATION FEES:
Please choose one:
OPTION 1) DIAMOND PACKAGE:
EUR 4880 VAT INCLUDED:
Full Course Registration + 4 Nights Accommodation and Transfer
OPTION 2) PLATINUM PACKAGE:
EUR 3904 VAT INCLUDED:
Full Course registration
DOWNLOAD REGISTRATION FORM
OPTION 3) GOLDEN PACKAGE:
EUR 1830 VAT INCLUDED
4-Day-Theoretical and Live-Surgery Session Only
OPTION 4) EMERALD PACKAGE:
EUR 1830 VAT INCLUDED
1-Day-Suturing Masterclass Only (July 12th all day)
DOWNLOAD REGISTRATION FORM
ORGANIZING SECRETARY
WOMBLAB srl
38, Corso Giacomo Matteotti
10121 Turin – Italy
T +39-3801466892
F +39 011 4336307
elide@womblab.com
Download course reports
Dear friend and colleague,
we are glad to send you the "Save the Date" for the
1st ISSA INTERNATIONAL, HANDS-ON INTENSIVE MASTER IN BASIC AND ADVANCED LAPAROSCOPIC SURGICAL ANATOMY OF THE FEMALE PELVIS AND TECHNIQUES.
In collaboration with the AAGL which will be held in Verona (Italy) from July 9th to 12th, 2019.
The course consists of theoretical and keynote lectures, video sessions, live surgery, basic and advanced cadaver laparoscopic dissections and a cadaveric hands-on masterclass on laparoscopic suturing techniques, which are going to be performed directly by the participant, under the supervision of the tutor.
We look forward to welcoming you in Verona!
COURSE PRESIDENTS
Marcello Ceccaroni
Course Director ISSA President
Shailesh P. Puntambekar
Course Director
DOWNLOAD PROGRAM